Books for 60 PDUs for PMP Renewal
Can reading books count toward my PDUs?
"Yes!" Reading books comes in education sector in which minimum PDU required for renewal are 35. You can earn the 60 PDUs needed for your PMP renewal by reading books. Here are some suggested books for regular readers, along with the number of PDUs they can earn, the category they fall under (Strategic or Business Acumen, Technical or Ways of Working, and Leadership or Power skills). What books can be read for PDUs for PMP renewal will be covered in this post. in your PMI profile, as well as how to record these PDUs. Below is the list of books. Amazon link proveded for paperback copy. Download Softcopy from Provided Link.
Image
Book Name
Business Accumen
PDUs
(Strategic)
Power Skills
PDUs
(Leadership)
Ways of Working
PDUs
(Technical)
Amazon
Softcopy
Designed for Digital: How to Architect Your Business for Sustained Success (Management on the Cutting Edge) BY
Jeanne W. Ross, Cynthia M. Beath, Martin Mocker
3.5
0
0
Amazon Paperback
Download
Leading Transformation: How to Take Charge of Your Company's Future by Nathan Furr, Kyle Nel, Thomas Zoega Ramsoy
0
4
0
Amazon Paperback
Download
Carrots and Sticks Don't Work: Build a Culture of Employee Engagement with the Principles of RESPECT by Paul Marciano
0
2.5
Amazon Paperback
Download
Your Next Five Moves: Master the Art of Business Strategy by
Patrick Bet-David
4
0
0
Amazon Paperback
Download
Do What Matters Most: Lead with a Vision, Manage with a Plan, Prioritize Your Time by
Rob Shallenberger, Steve Shallenberger
0
3
0
Amazon Paperback
Download
Product Management in Practice: A Real-World Guide to the Key Connective Role of the 21st Century
Matt LeMay
0
0
3
Amazon Paperback
Download
Leading the Unleadable: How to Manage Mavericks, Cynics, Divas, and Other Difficult People by Allan Williat
0
4
0
Amazon Paperback
Download
Strategic Project Management Made Simple: Practical Tools for Leaders and Teams
0
0
4.5
Amazon Paperback
Download
Applied Software Project Management
Andrew Stellman, Jennifer Greene
0
0
5.5
Amazon Paperback
Download
101 Project Management Problems and How to Solve Them
Tom Kendrick
0
0
4.5
Amazon Paperback
Download
The 4 Disciplines of Execution: Achieving Your Wildly Important Goals Paperback
4.5
0
0
Amazon Paperback
Download
The Future Leader by Jacob Morgan
0
5
0
Amazon Paperback
Download
The Long-Distance Leader by Kevin Eikenberry, Wayne Turmel
0
3
0
Amazon Paperback
Download
Great Mondays: How to Design a Company Culture Employees Love
0
2
0
Amazon Paperback
Download
Building A Winning Team: Technical Leadership Capabilities by Robina Chatham, Brian Sutton
0
1.5
0
Amazon Paperback
Download
Good to great: why some companies make the leap--and others don't
Jim Collins
0
0
6
Amazon Paperback
Download
Project to Product: How to Survive and Thrive in the Age of Digital Disruption With the Flow Framework
Mik Kersten [Kersten, Mik]
4
0
0
Amazon Paperback
Download
Essential Scrum: a practical guide to the most popular agile process
Rubin, Kenneth S
8.5
0
0
Amazon Paperback
Download
Effective Project Management: Traditional, Agile, Extreme, Hybrid
Robert K. Wysocki
0
0
11
Amazon Paperback
Download
The Toyota Way - 14 Management Principles From The World'S Greatest Manufacturer
Jeffrey Liker
0
8
0
Amazon Paperback
Download
The Manager's Path: A Guide for Tech Leaders Navigating Growth and Change
Camille Fournier
0
6
0
Amazon Paperback
Download
Agile Estimating and Planning
Mike Cohn
6
0
0
Amazon Paperback
Download
Agile Project Management: Creating Innovative Products, Second Edition
Jim Highsmith
7
0
0
Amazon Paperback
Download
Retrospectives Antipatterns
Aino Corry
0
0
5
Amazon Paperback
Download
The DNA of strategy execution: Next generation project management and PMO
Duggal, Jack [Duggal, Jack]
5.5
0
0
Amazon Paperback
Download
You can Download and read the above books and add PDUs as per table in yur PMI Profile.
Procedure to Claim PDUs from Book Reading
Go to PMI Login Page
2. Enter Your Credentials and Login
3. Click on PDUs>Report PDUs
4. Clik on Read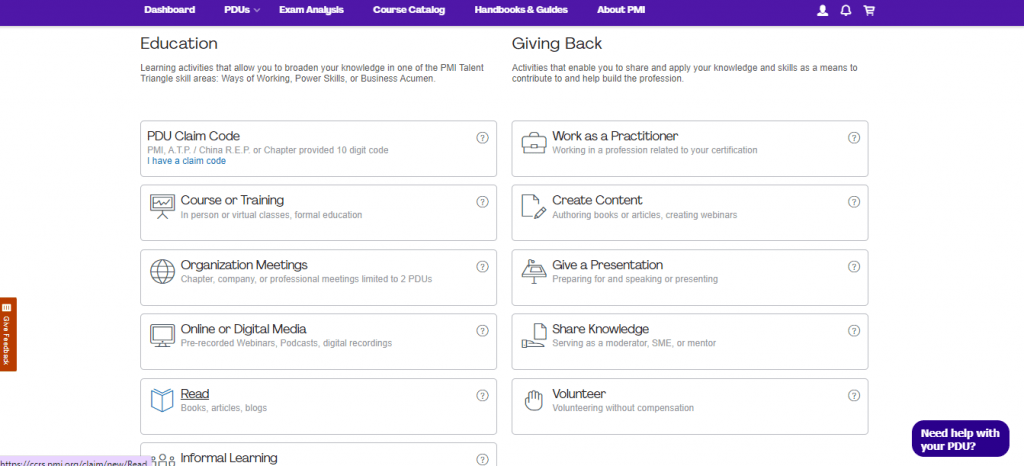 5. Enter All Details . In Author Name, Enter Author of Book. In Title, Enter Book Title. in Description Box, Enter what have you learnt about book. Enter Date started and Date Completed. Enter the Hours as mentioned in above table for Book you read. and Press Submit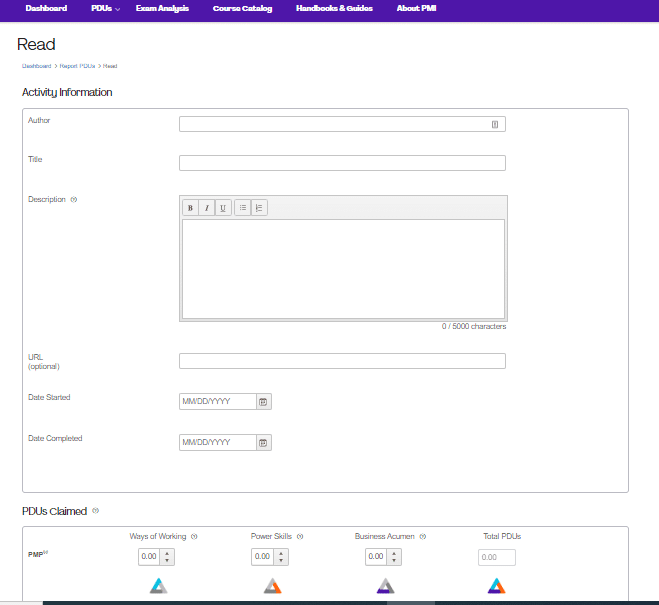 After 2-3 hours, Claimed PDUs will be added in your Profile.
If you like this pos please do comment in order to make this blog more useful to you. For Book Summaries, Please refer to my Books section. Happy Renewal!!